He was SO excited he didn't KNOW what to do. I love that grin!!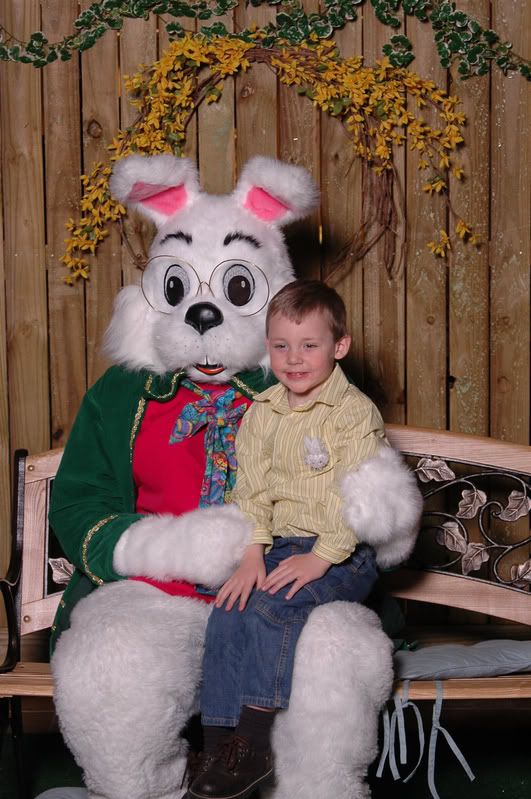 A nice shot to remember!
My camera kept setting of the Set's Flash so we decided to buy the CD with the images and copyright. These are our favorites. To say Hunter was excited would be an
UNDER statement
. He said he loved the Easter Bunny, just like Santa Claus.
I wanted to take him earlier in the week but I haven't felt good. In fact, I went to the Patient First last night. I just knew I had another Sinus Infection. I did, well, an Upper Respiratory Infection, which I think is the same. I coughed all night and my chest has been sore. I bought a big bag of Vitamin C Cough Drops and that has helped. I was so worn out and could tell it wasn't pregnancy related. So, unfortunately, I'm not painting the baby's new room but I WILL do some work in it after our Easter Egg Hunt at Church on Sunday. I was disappointed I didn't get to it but I KNOW I've needed my rest this week.
Hannah has been kicking like crazy....what a miracle! She's quite the mover and it's fun to just sit and feel it. I told Mike she must have a good sense of humor because she loves to stir around, RIGHT after I go to the bathroom and then, I have to go again...
LOL
! But I'm enjoying her being lower than Hunter and I can breathe a little better. I've enjoyed BOTH of my pregnancies and it's so awesome to see the differences.
Well, I'm headed for bed. Good Night!!