We've been working ALL week long on getting to Hunter's new room. We had SO much stuff to go through but cleared it all out by Saturday afternoon in time to paint. The color is called Sky Blue and we LOVE it. It's just a little bit of color. He's using the bedroom suit that belonged to me when I was a little girl. When Hannah is old enough in a couple years, we will let her have it and he can have the crib that turns into a full size bed and dresser. He LOVES his new room and when we
surprised
him with it today, all he could say was "WOW, thank you everybody!"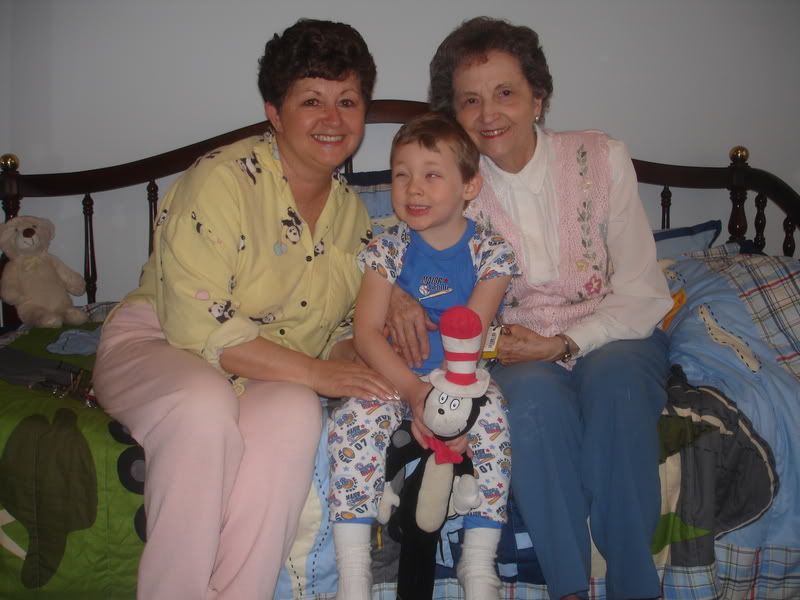 Grandma and Nanny help us with the curtains and the decorating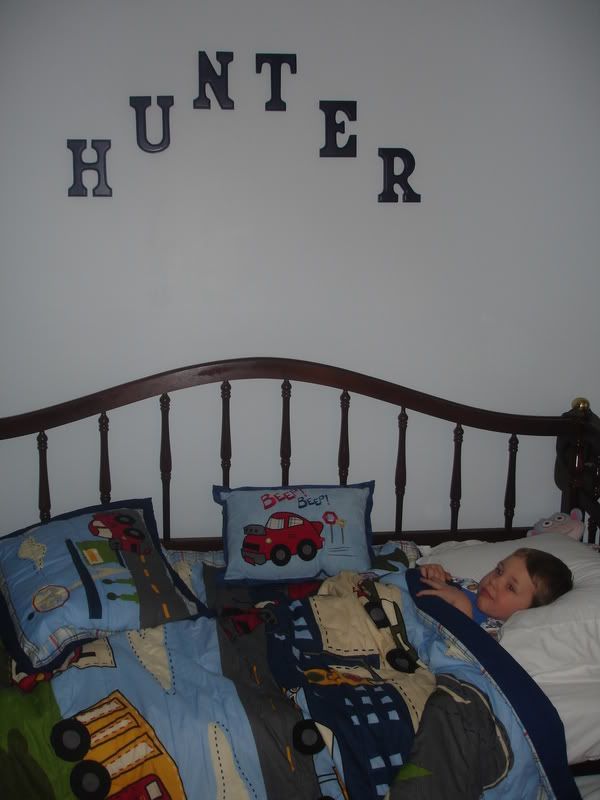 Hunter tries out his new bed..and loves it!
He has his train table in front of the window, his toy box to the left (beside his bed) and his recliner to the right. (beside his dresser)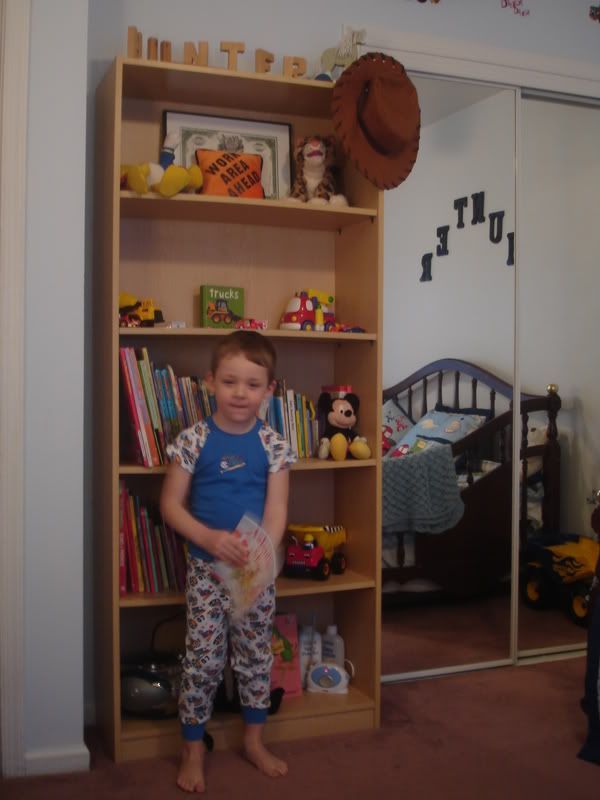 Hunter has lots of room for all his books and toys on his book shelf. He says "See?"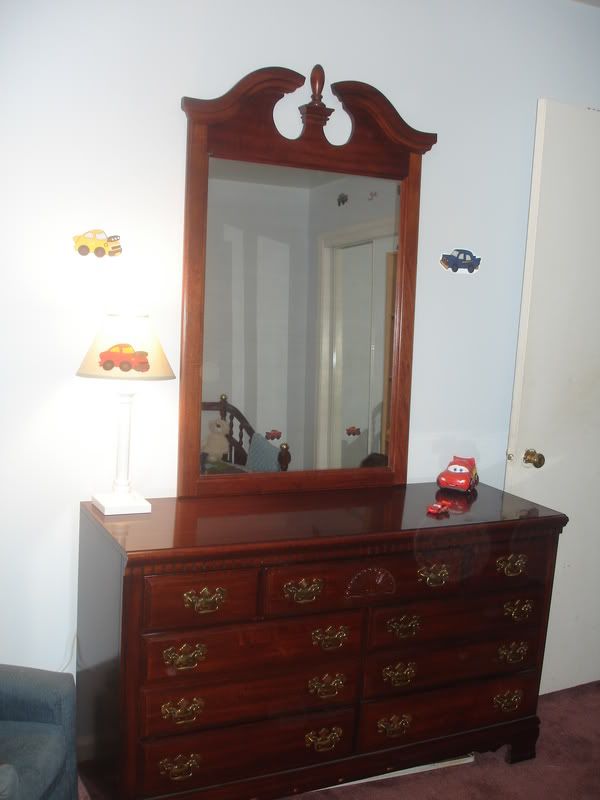 His dresser, with car decals on each side, AND on his lamp shade.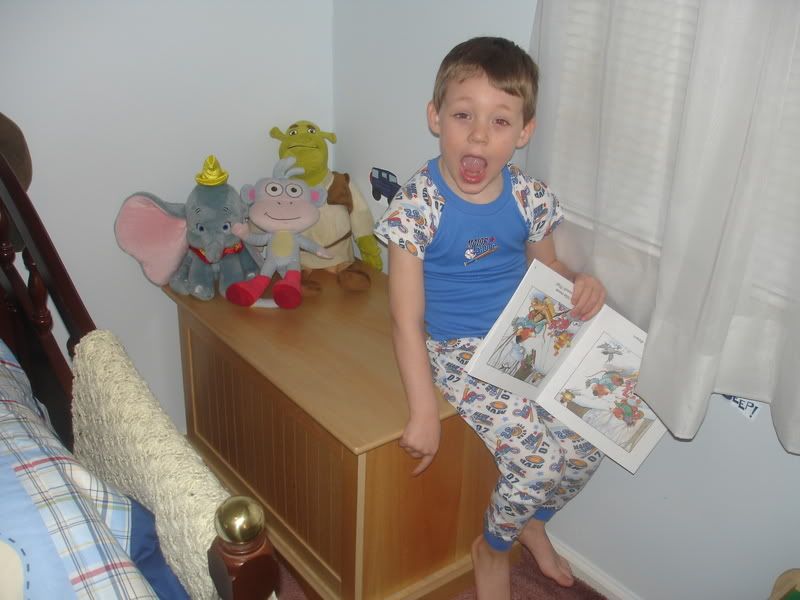 "WOW, look at my toy box"
"Daddy and I read a book together"
Mike deserves to rest. He's done SO much work this past week!! What would I do without him??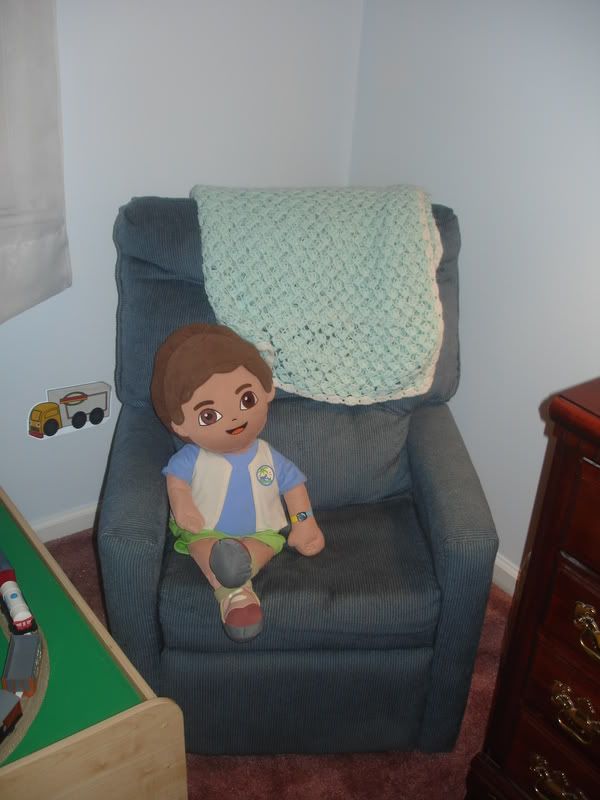 "I love to read books in my recliner with Diego"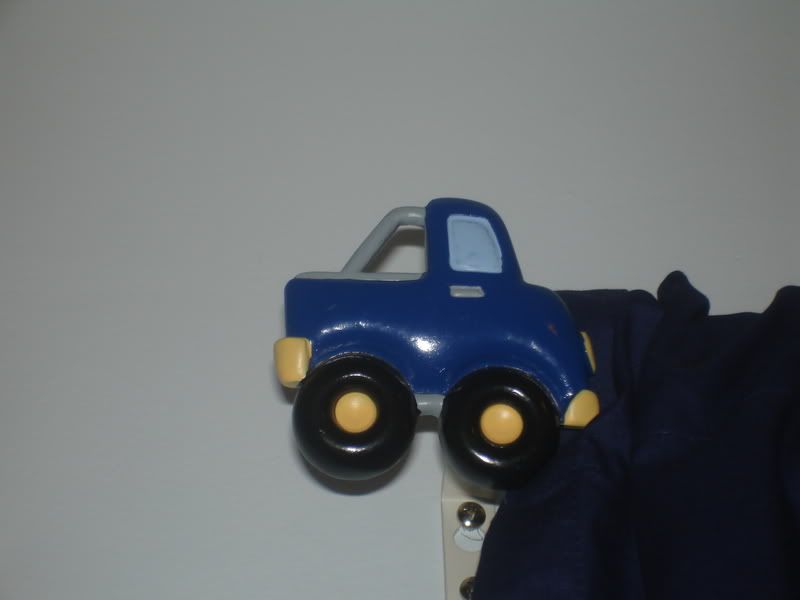 This is the finial on the end of the curtain rod, that also matches his room decor
Maw Maw and Paw Paw gave Hunter this truck for Christmas. He already loved it but NOW, it matches perfectly with his room's theme. SO many things came together. He had several books that had the "Hit The Road" type theme. I think I love his room more every time I walk in.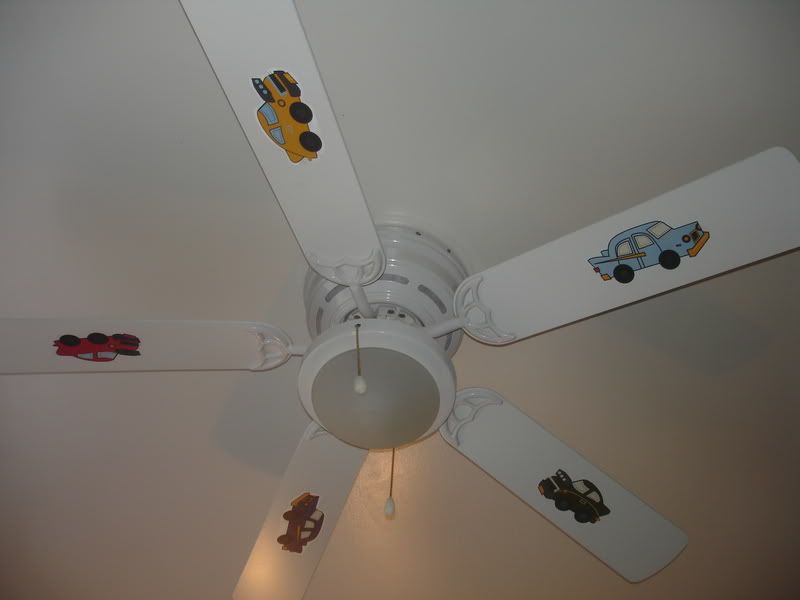 We put some of the decals on his fan and it looks SO cute!
The only thing I have left to do with Hunter's room to be done is finish putting his clothes in the closet. I'm going to try to put some of the stuffed animals in the "Garage Sale" stack and then, some I can rotate but keep them in the attic. I wouldn't mind getting him a small metal star I plan to spray paint red. I think it will be a great finishing touch. We put new stars on his ceiling that glow in the dark. He LOVES them. (we have them too!)
Our bedroom looks like a bomb went off. I can, usually go to bed when my house isn't quite to par but my anxiety concerning it has REALLY got me stirred up this week. My bathroom is clean and I've done my regular
vacuuming
but his old room, our bedroom and a corner of our Dining Room are OUT OF CONTROL. I feel like I'll NEVER get it clean. I've done what I can
tonite
(and Mike of course too. He's been amazing!) but plan on doing a little bit every night this week. We're planning to get the border off the walls in Hunter's OLD room and get painting in the Nursery by Saturday. (after the Easter Egg Hunt at Church)
We're having our bathroom FINALLY remodeled in about two weeks so we're hoping to be done by then. I want to rest for the last two months of this pregnancy. Don't get me wrong....I feel GREAT but I want to rest. I want to go camping. I want to NOT have this anxiety and worrying hanging over my head. We're also having our hallway and kitchen floor done so we won't have THAT much room for mess. Wish us luck. Just hoping I can get some sleep
tonite
. I woke up about 5 A.M. this morning, thinking about EVERYTHING I need to get done
In the meantime, I'm turning in now and going to bed. I'm exhausted so maybe I'll be out quick:)
Hope everyone has a wonderful week and great Monday!! God Bless!