We found a couple more trucks for Hunter's shelf, as well as some finishing touches. He always cleans up before bed, and more so now with a new room. He loves it!
Here's a shot of the two pictures Mike hung for me. I picked up frames at lunch and really like the way they turned out!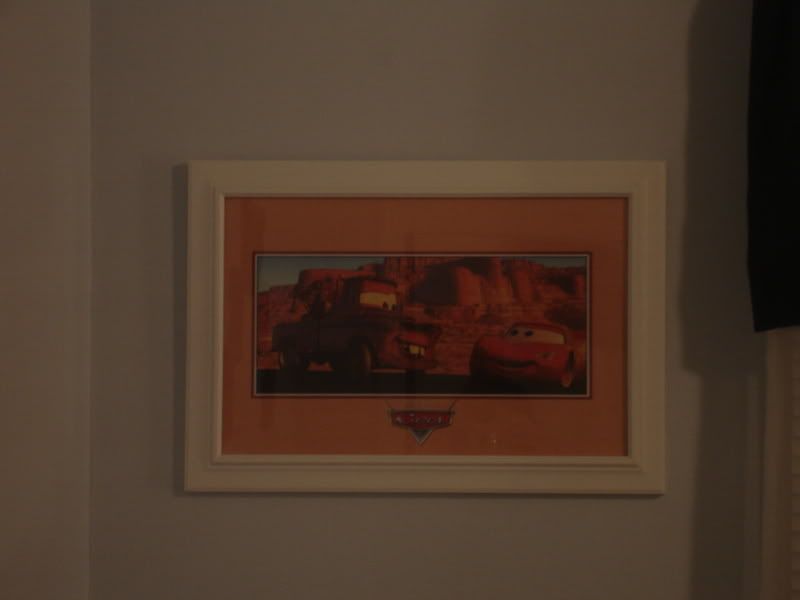 This shot turned out a
lil
' dark but it's a great orange/coral color around "Mater" & "
McQueen
"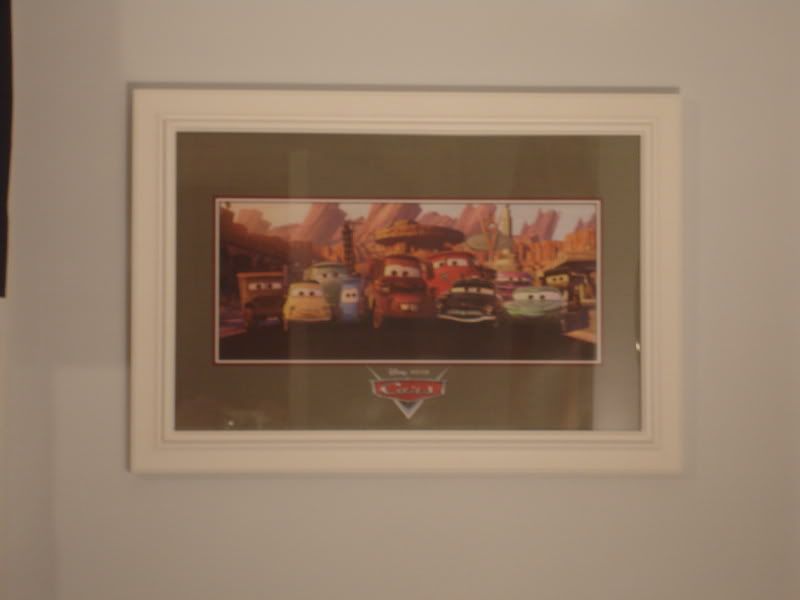 This one is my FAVORITE, with all the cars in it.
I think the only thing I may pick up is a star that I plan to spray paint red. Last night, Mike hung his pictures, took down Hunter's old bed, picked up toys that were underneath,
vacuumed
and stacked some boxes in there neatly. What a BIG help!
I gave Hunter a bath, got him ready for bed, straightened up his room (with his help) from where he was playing, read a couple books and tucked him in.
I had been having some really bad contractions so I decided it was time to stop and get ready for bed. I watched Dancing With The Stars and The New Bachelor. It was a VERY productive night.
Tonite
, we MAY go see our Pa Pa, who celebrated his birthday yesterday. We need to exchange Hunter's Easter outfit for a bigger size, get haircuts and pick up some new white shoes for me. It's going to be another busy week but that's
OK
. Looking forward to our Easter Egg Hunt at church and painting the baby's room afterwards on Saturday.
***Prayer Request***
My Mother In Law and Father In Law lost their beloved dog, Cocoa yesterday to Cancer. Please remember them in prayer today. He was a wonderful friend and companion and will be missed by so many of us.