Hannah had her 1 month checkup on Thursday and she's healthy as a horse!! She now weighs 10 pounds, 6.5 ounces (birth weight was 8 pounds, 10 ounces), and she's 22.5 inches long! (birth length was 19.5 inches long) I can't believe how she's grown!! Dr. B was very impressed, thought she was doing wonderful and said to keep doing whatever works for us. He also couldn't believe how great I looked after what I had been through. That made me feel better, since I'm still a little discouraged. Still having pain and still swollen. I can get in my bigger, looser clothing but my favorite outfits are just TOO tight. I know I'll get there sometime soon. We're walking a little bit every day. I'm still looking for good articles on what happened. One of my friends, who is a nurse told me the terms are called WOUND EVISCERATION OR DEHISCENCE. I found a picture of a stabbing victim who had his organs on the outside. It was strange to see that again but I'm very interested in finding out more info about this complication.
Grandma came over to sit with Hunter while Hannah and I went to the appointment. He loves to take pictures with her and hold her. He asked us to take a picture of them together and I thought it was precious!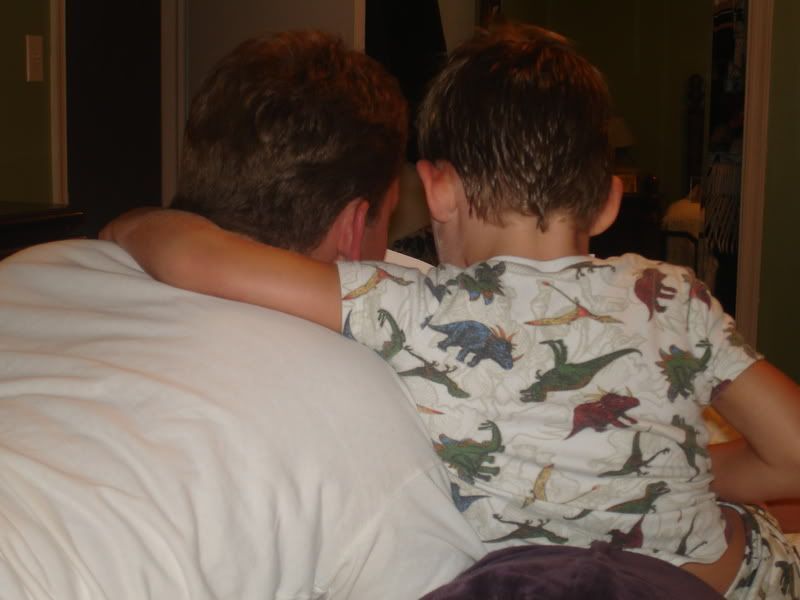 While I was feeding the baby the other day, Mike and Hunter were reading some books together. I thought this shot was so cute of them. Since he joined the reading program at the Library this week, he's read 11 books. Yesterday, we went back to the library to show them his little book. He's over half way there and he got a ton of goodies. He got a florescent yellow hat, some green sunglasses, a free ice cream from
Shoney's
and a free ice cream from Chick-
fil
-a. When he finishes 20, he gets a Certificate of Completion that I'm SURE I'll put in his scrapbook. We love to read together and the time we're sharing.
Yesterday was SO productive. The only place we went was the Library,
Walgreen's
to pick up a couple items and Taco Bell for lunch, which we ate at home. I was able to run to the post office to mail out the rest of my thank you notes and Baby Announcements, after Mike got home . I also finished all our laundry and picked up around the house. I think I only need to
vacuum
the house and clean our bathrooms this morning.
Not sure what our plans are for today. I think we're going to go to the pool and after a nap, work in Hunter's workbooks and his Speech work. If the rain would hold off, I'd love to spend the evening at Busch Gardens. It just feels good to walk, to get out and enjoy the weather. And the more I do it, the better I feel! Mike may have to work on Saturday but sometime, we need to get some portraits with Hunter, and visit with our grandparents. Hunter had pictures taken at school this Spring so we didn't get our Annual pictures done at Sears Portrait Studio. They take wonderful pictures and I've been missing the shots with the number for his age. SO, I think we may get some, JUST with the number. I think I'm TOTALLY
OCD
about some things. But it's bothering me that I don't have those in his scrapbook with all his portraits. And Hannah may get some too, since she's changing so much. I know I will
DEFINITELY
have to label my pictures good. Hunter and Hannah's baby pictures look SO much alike!!
Whatever you do today and this weekend, hope it's a great time. Enjoy it to the fullest!
God Bless!